According to Joseph Siegle and Candace Cook in an article titled "Assessing Africa's 2020 Elections" published on January 28, 2020 and updated on August 13, 2020), African elections in 2020 will be a test against efforts to erode presidential term limits and other democratic checks and balances, with direct consequences for stability on the continent.
Were they right?
Since the article was written till date, 5 countries have had their elections or are in the process of doing so. Togo, Burundi, Malawi, Ethiopia, Seychelles, Guinea, are among those countries. The table below is a list of all the African countries who have their elections this year.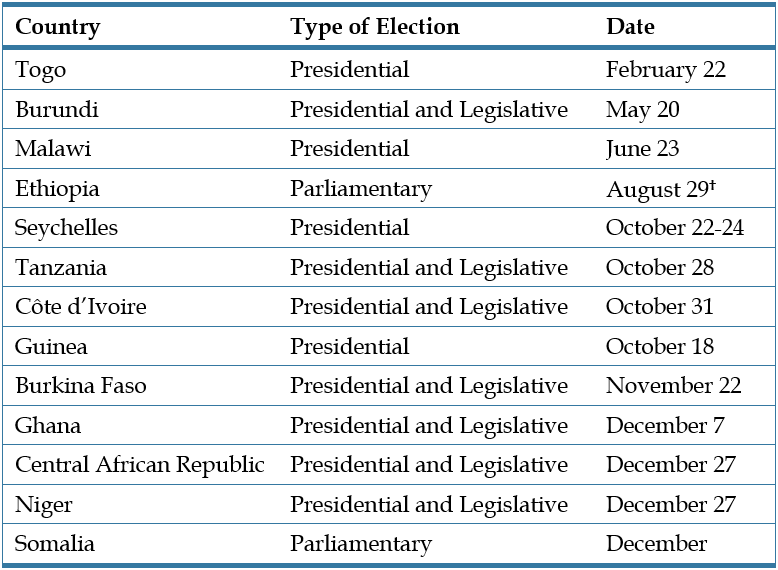 Elections in Togo, Burundi, Malawi, Ethiopia, Guinea, Seychelles, Tanzania, and Cote d'ivoire, have held till date. Here are some of the yardstick's we would be using to gauge elections being conducted in some African states in the year 2020.
– How will political leaders respond if electoral results do not match their expectations?
– Will political parties pursue their appeals through designated legal channels?
– Will the justice sector be perceived as an evenhanded arbiter?
– How capable will security forces be in responding to any threats of violence?
– Will winners pursue national or parochial interests once in office?
– Will all sides realize that losing an election in a democracy does not mean that one is relegated to oblivion, but rather that it has experienced a temporary setback and an opportunity to continue to rally more supporters to its position?
It suffices to say, that there is a general pattern that is prevalent in most of the elections going on in Africa this year. And this would be that there is a political struggle for incumbent presidents to remain in power while a notable number of the African countries, are changing their electoral reforms to remain in power. This begs the question as to whether African countries actually practice democracy or just claim the name.
Most of the elections held in a majority of the African countries have been characterized with political tension, heavy security deployment, media blackout, internet shutdown, harassment, intimidation and arrests of the opposition, particularly during the campaigns as well as obstruction of voter's mandate. Why are elections in Africa any different from what is observed in other democratized countries available in the west? Are we incapable of practicing true democracy to carry out elections in a manner rid of impunity, show of force and oligocracy which undermines its credibility? Most importantly, why are African elections more about the opposition than the people called to serve?
We take a look at some of the African countries who have held elections this year and what was observed during their elections?
TANZANIA
First up is Tanzania, the Tanzania elections which were held on the 28th October, 2020, which saw the incumbent President John Magufuili declared the overwhelming winner of the Presidential elections while his ruling party Chama Cha Mapinduzi (CCM) also secured 99% of every seat in parliament, giving it the power to change the country's constitution. The elections however have been observed to be flawed based on "Irregularities and the overwhelming margins of victory raise serious doubts about the credibility of the results announced," and also noted credible reports of "the use of force against unarmed civilians" as stated by the United States.
According to the Tanzanian Watch Elections, a regional group of eminent persons monitoring the election in Tanzania says that the vote "marked the most significant backsliding in Tanzania's democratic credentials. In its assessment, it noted a heavy deployment of military and police whose conduct created a "climate of fear." "The electoral process, so far, falls way below the acceptable international standards for holding free and fair elections," the group said.
The course of events preceding the elections in Tanzania shows that the rights of Tanzanians have been trampled upon to a free and fair election. There was an underlying worrying trend from the reports of killings, brutality and harassment by the state security forces in parts of Tanzania, heavy police and army deployment across Zanzibar, on the eve of the polls, intimidating residents while creating fear and despondency that could deter voters from coming out. Being denied their fundamental rights to protest, Amending an act of the National electoral commission that prevents Tanzanians from contesting the results of the commission, making its announcement final with no chance for aggrieved parties to air their views. Arrest and intimidation and deadly attacks to the lives of the opposition party members.
Deplorable use of excessive force by the Police in responding to protesters by tear gassing and reported deaths of civilians by state security forces had been the order of the day. As if that wasn't oppressive enough, there had also been clampdown on media houses and communication channels, including the suspension of bulk SMS services, reported blocking of social media sites, and slowing down of internet communication ahead of the elections. All these happened within the confines of a democratic elected government of President John Magufuili. This buttresses the point that the quest for power or to remain in power is more paramount to most African leaders contesting for elections than the interest of the people they intend to govern. Their sole priority is more on preventing the opposing parties from coming into office to take out their power.
COTE D'IVOIRE
A closer look into the Cote d'ivoire elections on October 31st 2020, would show that the 78 year old president Alassane Ouattara who has been named the winner of the election with 94.27% of votes to secure him a third term in office, with an low voter turnout of 53.9% amid violent protests. The constitution only allows him to have two terms. As at March, he said he wasn't going to run again for office but his preferred candidate, Amado Coulibaly died on August 8th, 2020, according to Africa Facts Zone.
It's interesting to note that this same President Alassane Ouattara, that has currently being re-elected for a third term in office wrestled with the past president Laurent Gbagbo, for this same reason of staying back in office after two consecutive terms while the former was contesting for a third term. What are we missing here? Are African leaders solely bent on using the constitution to their advantage as they please?
Observing a wide margin of incredulous number of votes for sitting African Presidents is the new norm for African elections. Despite the people of Ivory Coast taking to the streets to protest against the President's unconstitutional third term bid, there were reports of violence that led to the deaths of several people and others left injured. 2 out of the 3 opposition parties also boycotted the election on the basis that the President refused to honour the constitution of the land. So, we can clearly see a pattern prevalent in African elections, people elected into power turn on the same people who got them there.
GUINEA
Another interesting election observed in Africa this year would be that of Guinea, which took place on the 18th October, 2020. The incumbent President Alpha Conde, 82years of age changed the constitution few months to the election, under the guise of pushing a new constitution argued to modernize the country, while also by-passing a two-term limit for presidents so he can run for a 3rd term. Based on what has been obtainable in other African elections, he also won a greater margin of the votes in the polls at the expense of the lives he had been called to govern and protect.
Amnesty International RFI have reported that since the anti- Conde protests began in October 2019, over 200 people have been severely injured, about 70 imprisoned and over 90 persons killed, by the military. Guinea's citizens are being denied freedom of speech and peaceful assembly and are being silenced till date through violence and oppression by the very system that is meant to protect their interest. Does this sound familiar?
SEYCHELLES
Seychelles is one of the fewest countries not plagued with the civil unrest and violence that is mostly associated with African elections. After three decades of unsuccessful runs at the presidency, former Anglican priest Wavel Ramkalawan defeats incumbent President Danny Faure whose party has been in power since 1977 and after 43 years, Seychelles opposition wins the presidency on 24th October 2020.
The acceptance of the outcome of the elections by the outgoing President Danny Faure, gave a demonstration of strong democratic and participative governance. The U.S state department hailed the election as "another major milestone in Seychelles' democracy." The Seychelles has played a valuable role within Africa's peace and security architecture through its interdiction and prosecution of transnational crimes committed on the western Indian Ocean, primarily piracy and narcotics trafficking, as reported by the Africa Centre for Strategic Studies.
ETHIOPIA
5. The postponement of the national elections in Ethiopia due to the Covid-19 pandemic that was due to be held on August 29th, 2020 has contributed to the emerging crisis going on in Ethiopia. While the electoral officials called for a delay, till the threat from the pandemic eases, the TPLF (Tigray People's Liberation Font), — home to a large portion of federal military personnel and where most of Ethiopia's military equipment are located, have well gone ahead to hold their regional elections in September of which the ruling Prime Minister of Ethiopia and Nobel Peace Prize laureate Abiy Ahmed government deemed illegal.
For decades before Abiy took office in 2018, the TPLF (Tigray People's Liberation Font), had dominated Ethiopia's governing body. While there has been drastic change in the electoral reforms by the incumbent prime minister, the TPLF have been accused of attacking a military camp in the country's region and attempting to loot military assets; which has made Abiy's government on November 4th, 2020 to declare a military attack on the Tigray region. But there are fears that this might erupt to a civil conflict, given the Tigray's relatively strong security position, which might further exacerbate ethnic tensions and further secessionist sentiments within other parts of the country.
The elections that have taken place so far were not without violence and lack of due process. Which brings me to the point of this article. Why are African elections for the sake of this article focused on the opposition and not the people who ever emerges as the leader, exist to serve.
Stay Safe, it's election season in Africa.